WHAT IS CONCRETE CORE DRILLING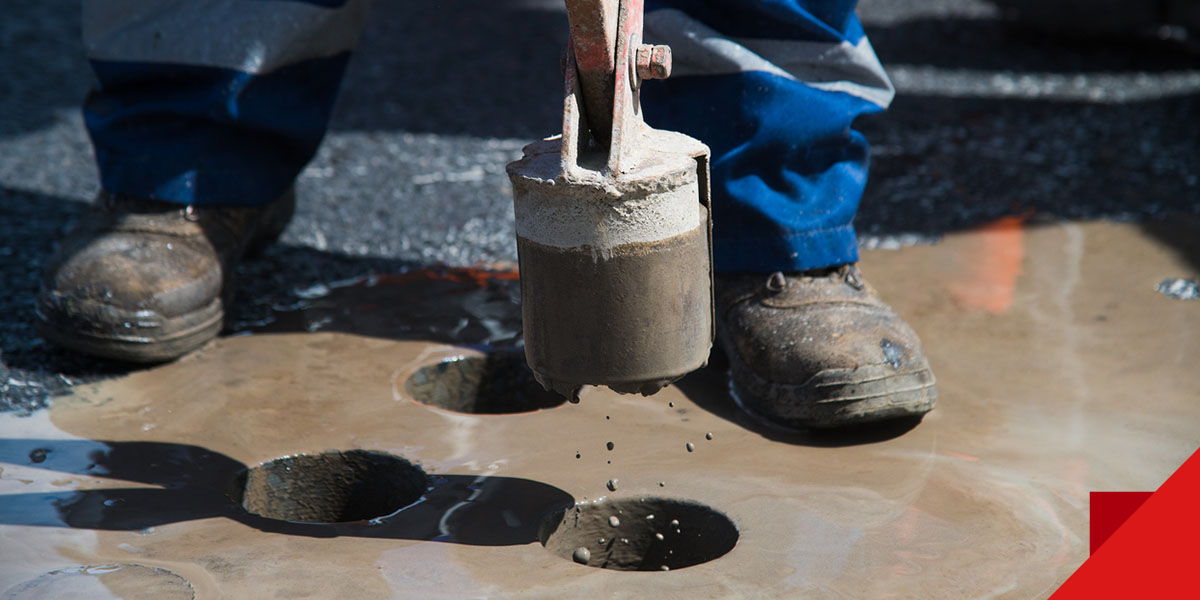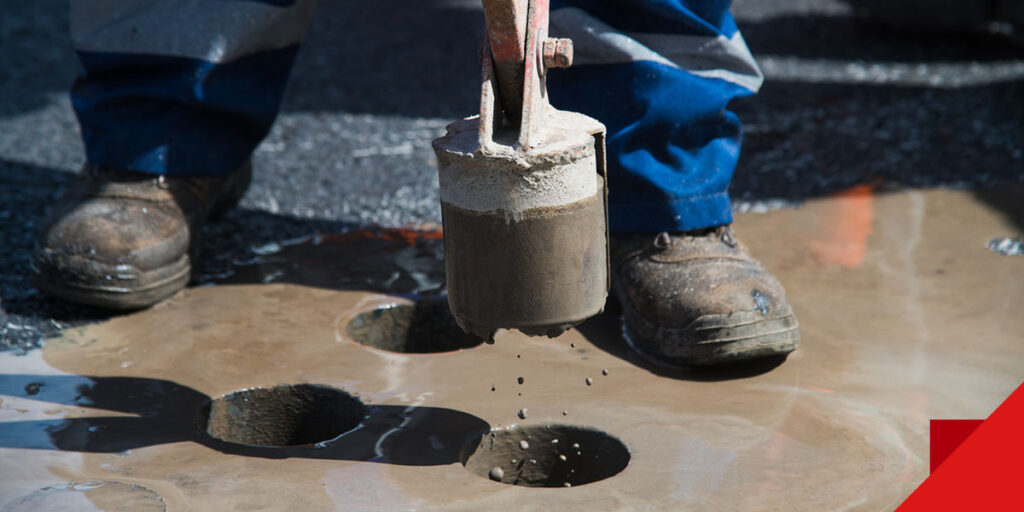 An important part of concrete construction is creating space within the rock to house utilities like water and electricity. Today's top concrete builders use a technique known as concrete core drilling to complete the task.
WHAT IS CONCRETE CORE DRILLING?
Core drilling utilizes specialized equipment known as core drills or coring tools to create holes. These drills are hollow shafts that contain abrasive core drill bits for cutting through rock.
Diamond core drilling is a type of core drilling in which pieces of industrial diamond embed the core drill bits. In addition to being hard and highly abrasive, diamond core drills offer accuracy, speed and efficiency, all with minimal damage or vibrations to the surrounding area.
Once applied to the concrete surface and engaged, the rotating core drill bit cuts a circular hole and advances through the stone, progressively filling up with a cylinder of intact concrete known as a core. The drill bit's size and diameter determine how deeply it can cut before its full of core materials. Once the drill is full, operators extract it from the concrete, leaving behind a cylindrical opening.
ADVANTAGES OF CONCRETE CORE DRILLING
Core drilling offers several advantages over other methods of cutting concrete. Construction sites that use core drilling enjoy the following benefits:
Less disturbance: Core drills create less vibration and noise because rather than demolishing concrete, they cut a solid concrete core for removal. Less disruption means core drills are great for projects in or around public places like schools, offices and hospitals.

Less dust and mess: Core drills produce less dust than other methods because they power into concrete and cut as they advance rather than hammering away at the surface. As a result, job sites are cleaner and operators and others nearby have less chance of breathing in dust.

Preservation of surrounding structures: Core drilling allows operators to cut precise holes with minimal vibration, which helps preserve the structural integrity of the surrounding components and promotes job site safety.

Precision: Core drills can produce clean, accurate holes quickly and on the first pass.

Cost-effectiveness: Concrete core drills operate with fewer workers, allowing construction companies to reduce labor expenses.

Versatility: Core drilling is suitable for many types of work environments. The tools are lightweight and easy to transport, making them ideal for drilling in confined spaces and even underwater. Some core drills can be operated by remote control, offering even more convenience and safety.
WHEN IS CONCRETE CORE DRILLING NEEDED?
Concrete core drilling is necessary when construction companies need to create space for utilities and other components to reside within the concrete, including:
Core drilling is also a way for testing laboratories to obtain samples of concrete. Labs test core samples for quality, durability and strength, ensuring the concrete is safe for construction, mining and road-building applications.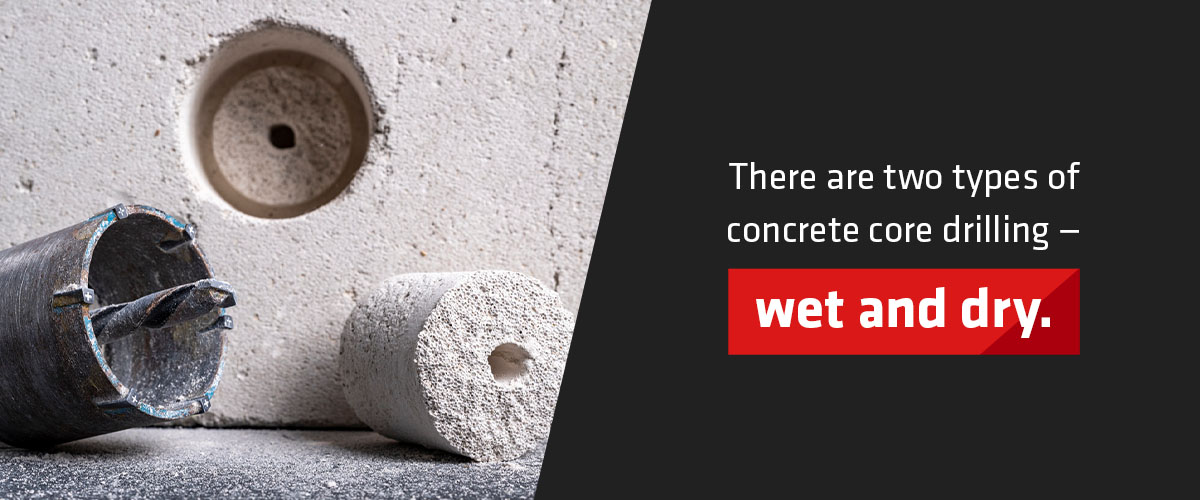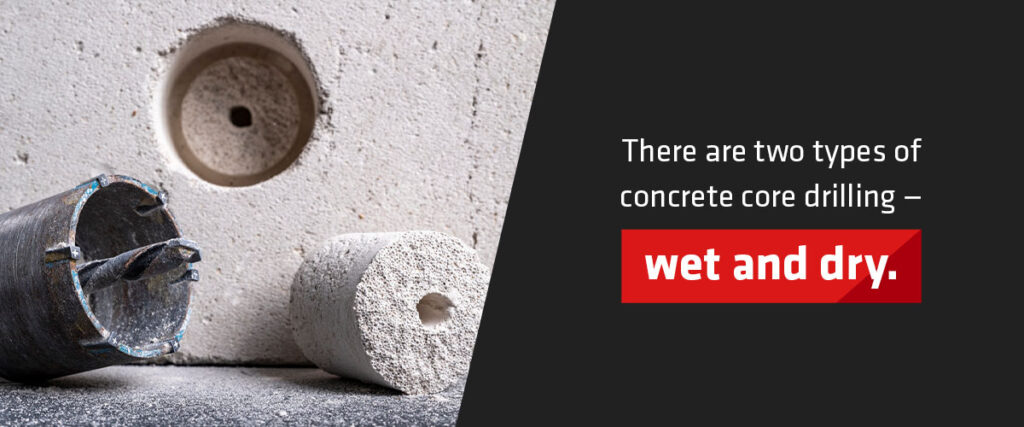 DIFFERENT TYPES OF CONCRETE CORE DRILLING
There are two types of concrete core drilling — wet and dry. The type you use depends on the environment where the drilling will occur.
Wet core drilling: Wet core drilling uses water to help the drill bit advance through the concrete. The water helps loosen and soften the concrete so the drill bit can pass through easily. The water also cools the drill to prevent overheating and aids in dust suppression, two factors that contribute to the drill's life span. Wet core drilling is the preferred method in most applications.

Dry core drilling: Dry core drilling is exactly how it sounds — core drilling without water. The process still creates a cylindrical hole and extracts a core, albeit under more pressure. Without lubrication to loosen the concrete, the cutting blade must work harder. Dry core drilling is preferred when water can be hazardous, such as on jobs involving electrical wiring.
APPLICATIONS OF CONCRETE CORE DRILLING
Concrete core drilling is necessary to install the following:
ADVANTAGES OF USING A SKILLED COMPANY LIKE R. J. POTTEIGER CONSTRUCTION SERVICES, INC.
Attentiveness: We listen carefully and work one-on-one with our customers to ensure we understand their concrete needs and how to meet them.

Time and money savings: We know how to complete your job quickly and with less staffing, saving you time and money.

Competitive pricing: We're able to offer competitive pricing because we can perform many aspects of the entire project ourselves.

Multiple services offered: We provide a multitude of services for commercial, residential and industrial concrete construction.

A glowing reputation: With over 25 years in the concrete industry, we've developed a reputation of integrity, teamwork and commitment proven by our consistent record of achievement and roster of repeat clients.

Legitimacy: We're fully licensed, bonded and insured, so you can trust that we're credentialed and qualified to complete your project.

Safety: Safety is top of mind on every job we take on. Our staff receive extensive training on core drilling equipment and have experience working with all types of concrete. They also have access to underground radar to ensure the job site is safe or can be made so by locating and disabling any live wires or gas lines.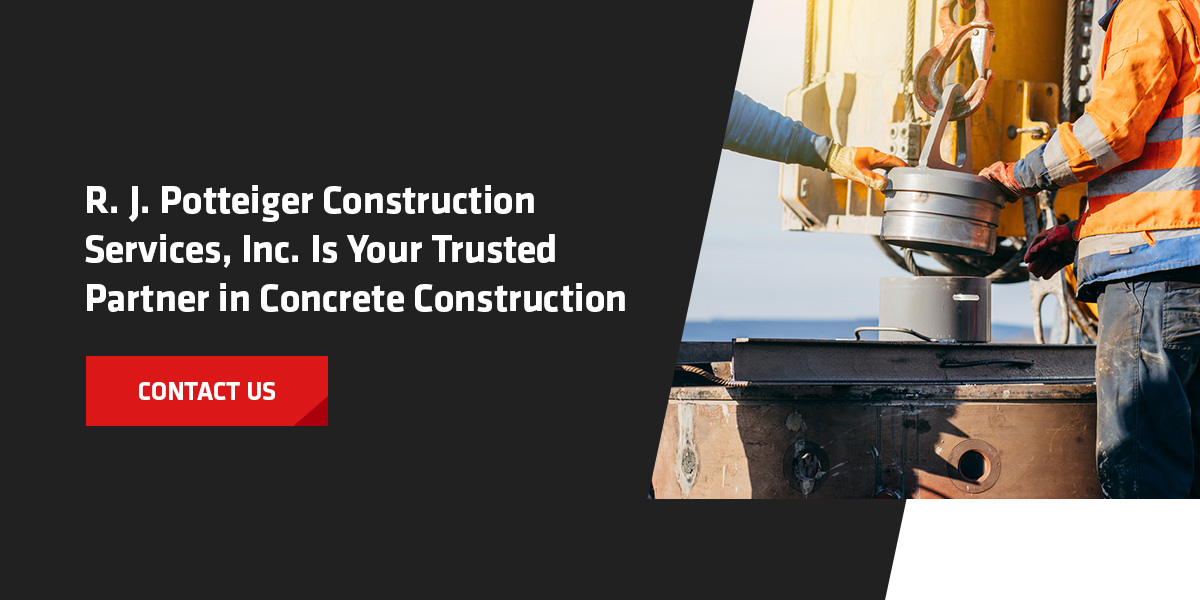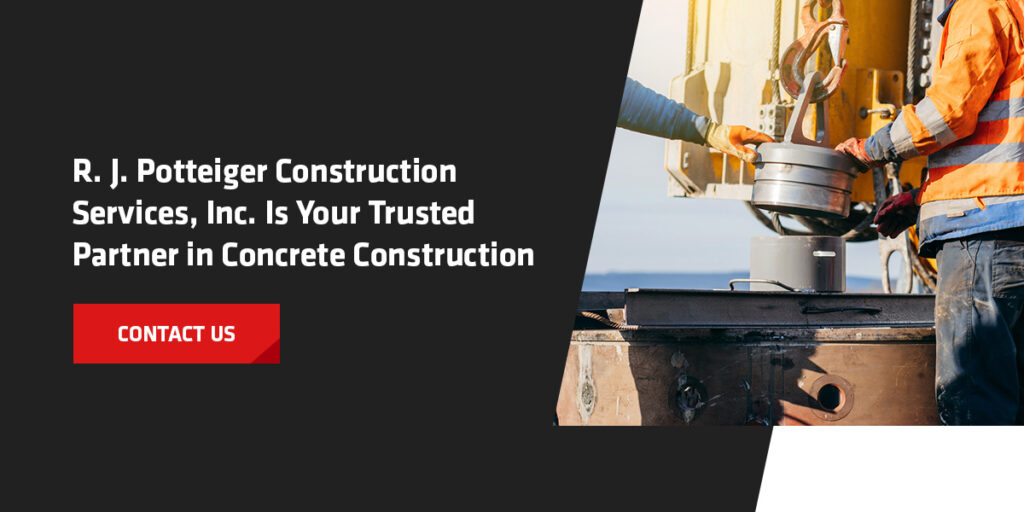 LEARN MORE ABOUT OUR CONCRETE CORE DRILLING SERVICES
Concrete core drilling is a revolutionary technique for cutting core holes, offering precision, cost-effectiveness and versatility, along with less mess and disruption. The concrete professionals at R. J. Potteiger Construction Services, Inc. have the knowledge and skills to carry out core drilling projects and other concrete construction needs you have.