From the world's tallest skyscrapers to some of the best-known highways, concrete is the material that makes it all possible. It's one of the oldest building materials in the world, and without it, we wouldn't have the Willis Tower, the Hoover Dam or the Panama Canal.
The team at R.J. Potteiger has vast experience in different areas of concrete repair and installation, including industrial and commercial concrete construction services. As commercial general contractors, our capabilities include but are not limited to the following services:
Commercial Floors and Concrete Polishing
Warehouse and industrial floors are exposed to more risks than residential ones. Joint edges can spall, crack or move under repetitive stress from wheeled equipment and heavy machinery.
These floors need supports that allow them to move with thermal changes and stress to prevent damage and degradation. High-traffic areas, like those in retail spaces or office buildings, can also experience deterioration over time due to cumulative stress.
Our floor repair services are available for:
Surface breakdown or delamination
Shrinkage cracking
Expansion, contraction, construction or induced concrete floor joint failure
Control joint damage
Cracking and spalling
If your floor is still structurally sound but looking a little worse for wear, we can come in and polish it. Concrete polishing calls for special diamond tools, chemicals and safety precautions, so you'll want to work with professional concrete contractors with a strong safety record.
During this process, we will:
Remove any existing coatings
Seal cracks and joints with the appropriate filler
Grind the floor down with descending grit sizes, similar to sandpaper
Apply a hardener that densifies the concrete
Polish the floor with fine-grit resin-bond diamond
Add a stain guard, if desired
Although concrete floors are low-maintenance, polishing can give them a nice refresh and help maintain their durability for years to come.
Commercial Concrete Parking Lots
Concrete is a great choice for parking lots because it offers long lifespans and easy maintenance, especially when compared to the other popular option of asphalt. With rising asphalt prices, concrete parking lots have become even more enticing. Other benefits include a high load-carrying capacity and lighter colors, which can reduce lighting demands and lower the temperature of the area.
Parking lots are a little trickier than basic pavement, as they call for components like joints, curbs and drainage spaces. Depending on the application, there can be many decisions involved, like the thickness and type of concrete, drain locations, freeze-thaw risk and the need for reinforcement.
Our experienced team has years of commercial concrete construction experience and can help simplify your parking lot project with attentive customer service.
Commercial Concrete for Tilt-Up Concrete Construction
Tilt-up concrete construction starts with a concrete slab on the ground. Then, we tilt the slab upward to form the wall of a structure.
This method is popular in buildings of all types, especially in the south. It's fast and flexible and can accommodate a wide range of building features, from basic windows and doors to complex shapes and decorations. Whether you're looking for exposed aggregate, embedded brick or unique textures and colors, tilt-up concrete is a quick, cost-efficient way to get them.
With tilt-up concrete construction, you'll find benefits like:
Quick on-site casting: Tilt-up panels can be poured into large panels and don't need to be shipped by truck, so there are few limitations to size or transit expenses. They also don't take much time to make, so they're great for meeting tight deadlines.
Flexibility: Tilt-up slabs can be used with a wide range of design and build choices, so you can choose from multiple reinforcement materials, colors and styles to meet even the most unique specifications.
Sustainability: This building method can be used for energy-efficient design choices, like insulation panels and airtight construction. Like all types of concrete, it can also be made of recycled materials.
Cost: Tilt-up is especially cost-effective for larger buildings, but it's also a good pick for subdivisions, where multiple homes are built at the same time.
Our commercial concrete services include but are not limited to:
Click to jump to relevant section on page
SLABS ON GRADE
Slabs on grade are one of the three main types of building foundations. These foundations consist of just one thick layer, and when they are poured, the edges will be made extra thick so that they can help carry the weight of the structure. It is standard practice to place a layer of gravel or soil down first to enhance the drainage, and the use of wire mesh will help limit the risk of the concrete breaking up and cracking.
Known for their consistency and durability, slabs on grade foundations are also described as floating foundations. To create the foundation, a mold will first be placed onto the ground, and the concrete will then be poured onto it. The slab and grade option has many advantages in that it creates an affordable and strong base, and it offers better protection against termites.
In colder environments, slabs on grade can be insulated to protect against frost and to help regulate the temperature of the concrete.
COMMON PROBLEMS WITH SLABS ON GRADE
One of the most common problems of using a concrete base in this form is shrinkage. However, there are methods that can be used to help counter this, such as creating an extra-thick slab, using damp proofing, allowing the concrete to cure for longer and using coatings and sealers to prevent moisture from seeping in.
Great care needs to be taken when it's utilized, as poorly installed concrete can lead to cracking, which could threaten the structure of the building if it becomes severe enough. Special care should also be taken to ensure drainage is sufficient.
APPLICATIONS
Applications for slabs on grade include:
Garage floors
Flooring
Foundations
COMMERCIAL CONCRETE FOUNDATION TYPES AND CHARACTERISTICS
A firm foundation is integral to the longevity of a steel building. If a foundation isn't laid according to the highest of standards, it can ultimately result in the building failing structurally. When a building is structurally unsound, leaks and floods can be commonplace and walls can begin to slant or move, leaving the construction in danger of failing.
When a steel building starts with a strong foundation, the finished building will be durable and better protected from harsh environmental factors and will provide a reliable base for the building structure.
PREPARING THE LAND
Laying the foundations will usually begin with the steel building foundation contractors conducting a survey of the land. During this stage, it will be established whether the ground is stable enough and if the quality of soil is adequate. If any potential problems arise during this stage, options for overcoming them will then be discussed.
THE PURPOSE OF STEEL BUILDING FOUNDATIONS
The foundation serves to counter many of the common problems that come with steel building construction. Steel buildings are vulnerable to damage from environmental forces such as earthquakes and wind uplift. The challenge of wind uplift makes it necessary to take a different approach to building a foundation.
Typically, foundations for steel buildings will be heavier and include additional topsoil or may require deeper footings to provide the necessary stability.
TYPES OF STEEL BUILDING FOUNDATIONS
Steel building foundations come in three main forms: slab, pier and perimeter wall. A slab foundation is the most commonly used and provides both a floor for the steel construction and support for the completed building. Buildings that have a gravel or soil floor will usually be built on a pier foundation, and this option is common in the agriculture industry. Portable and floating foundations are also an option.
A floating or permanent foundation is most often used for building construction in the commercial and industrial sector, and it's the preferred option for buildings that are to be situated on softer soils. Floating foundations have many advantages, such as:
They provide an affordable option.
They require less digging.
Floating and portable foundations mean less construction time.
It eliminates the risk of building height loss.
It is suitable for simple construction.
It offers an affordable and straightforward solution for construction.
However, these types of foundations don't have the sturdiness of the regular foundations. Nevertheless, they do offer greater flexibility.
The type of steel building foundation used will vary depending on the project. Pier, footing and grade beam is used widely for agricultural buildings and is often used where the soil is dry. It's more expensive, but is long-lasting and will stand the test of time. There's also the option of a concrete slab foundation.
The main considerations when choosing a suitable concrete foundation include:
The location of the steel building and what the building is to be used for
The type of soil
The weight of the building, equipment and vehicles
The final dimensions of the building
Applications
Steel foundations have applications in:
Carports and commercial buildings
Agricultural buildings
Workshops and storage units
Types of Commercial Concrete Mixes
Commercial concrete is made by mixing water, aggregates and cement in various ratios. The materials and ratios used will add certain characteristics to the concrete. Below are some of the types of concrete available for commercial applications:
Normal concrete: Normal concrete is a great all-around solution with enough strength for most construction work. It uses regular cement, and its aggregates include stone and sand. It has a relatively quick setting time — anywhere from 30-90 minutes.
High-strength concrete: As the name implies, high-strength concrete can stand up to more stress. It uses less water and a higher amount of quality aggregate. Some additives can also help make it stronger. High-strength concrete can take much longer to set, but it's suitable for high-load projects, like walkways.
High-performance concrete: High-performance concrete is even stronger than high-strength concrete. It offers additional durability and strength for large pieces like pillars, warehouses and facades. It can stand up better to tough environments where it might be exposed to chemicals or abrasion.
Air-entrained concrete: Lastly, air-entrained concrete incorporates small air bubbles into the concrete that can better resist freeze-thaw cycles. Normally, when water enters concrete and freezes, it increases the internal pressure and damages the concrete over time. Air-entrained concrete helps alleviate this issue for applications where freeze-thaw cycles are likely to be a problem.
We can work with all types of concrete and help you find the right one for your project.
CONCRETE LOADING DOCK PITS
A well-designed loading dock is crucial to any business that requires space to pack or unload merchandise. They're commonly used by suppliers who need to easily ship or remove stock from their premises. The type of loading dock pit needed will depend on the individual requirements of the business, the space available and any potential safety issues that need to be taken into account.
CHALLENGES IN LOADING DOCK DESIGN
Some of the biggest challenges for concrete loading dock contractors begin in the planning stages. It's crucial that the calculations and measurements are precise, or the completed project will not meet the individual business's requirements. However, it's also essential that the designs are drawn up with any future business plans in mind, as this will help to save costs on remodeling later.
DIFFERENT TYPES OF LOADING DOCK PITS
There are several types of loading docks, including flush docks, which are the most widely used. Other methods of construction pits include:
OPEN DOCKS
Open docks are among the least popular types. They have a distinct disadvantage due to the exposure to the elements, and they can be an easy target for theft.
DEPRESSED DOCKS
These could also be described as "sloping docks." They are used when the setup of the building won't allow a basement, or when there's no access to a dock-level floor.
SAW TOOTH DOCKS
These are used when there isn't a lot of apron space. However, the main negative with the saw tooth dock is the fact that it will intrude onto dock space.
APPLICATIONS
Concrete loading dock pits have the following applications:
Manufacturing plants
Warehouses
Agriculture
CONCRETE EQUIPMENT FOUNDATIONS
Another use of concrete in the industrial sector is concrete equipment foundations. A durable, reliable concrete foundation is of paramount importance to companies in the manufacturing sector, as the foundation needs to be strong enough to hold the hefty, specialized equipment that is commonplace in the manufacturing industry.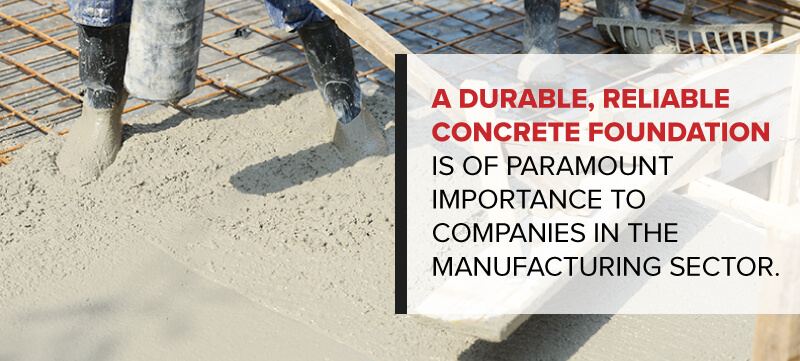 An experienced team of concrete equipment foundation contractors will use their skilled knowledge to create a foundation of any size or shape to cater to the individual business. The creation of these foundations will need to be done with great precision during the construction phase if it's going to provide the kind of tough, long-lasting foundation that's necessary to support the weight of specialized equipment.
THE IMPORTANCE OF CONCRETE EQUIPMENT FOUNDATIONS
The types of foundations typically used in regular construction are crawlspaces, slabs on grade and full basements. However, an equipment foundation requires a different approach, as an equipment foundation will need to manage the impact caused by machinery when it's in operation to manage the dynamic forces that are at work. The purpose of an equipment foundation is to offset these forces and to create a strong, stable base.
In construction, a wide variety of materials can be used to create a foundation. However, if it's going to stand the test of time and provide adequate tensile strength, reinforced or structural concrete is the usual method used in the building of equipment foundations.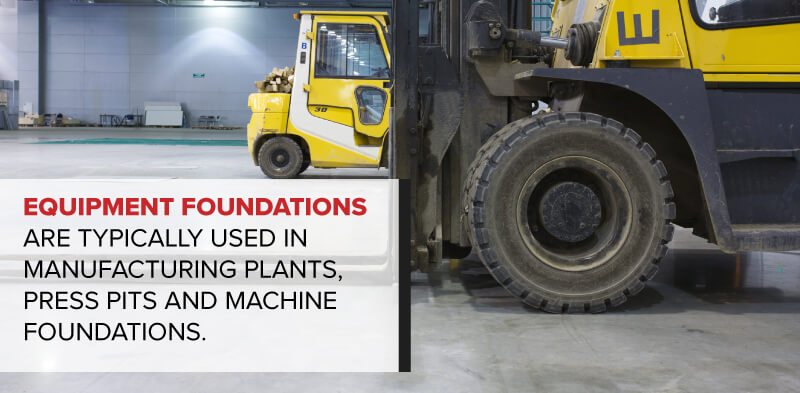 APPLICATIONS:
Equipment foundations are typically used in:
Manufacturing plants
Press pits
Machine foundations
Start Your Commercial Concrete Project With R.J. Potteiger
If you're in central Pennsylvania, the experienced professionals at R.J. Potteiger can help bring your residential or commercial concrete project to life. We're fully licensed, insured and bonded and have over 25 years of concrete work in our arsenal. Our team has the high attention to detail needed for industrial buildings, residential floors, public walkways and many other concrete projects, offering an array of services for existing and new concrete structures.
Reach out to us today to learn more about our services and how we can help.