CONCRETE EQUIPMENT FOUNDATIONS
Another use of concrete in the industrial sector is concrete equipment foundations. A durable, reliable concrete foundation is of paramount importance to companies in the manufacturing sector, as the foundation needs to be strong enough to hold the hefty, specialized equipment that is commonplace in the manufacturing industry.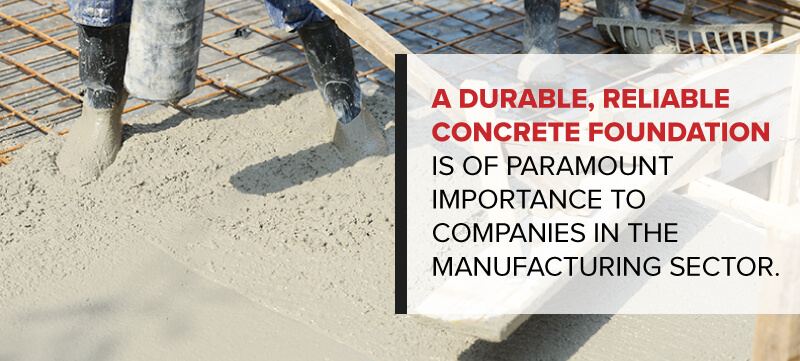 An experienced team of concrete equipment foundation contractors will use their skilled knowledge to create a foundation of any size or shape to cater to the individual business. The creation of these foundations will need to be done with great precision during the construction phase if it's going to provide the kind of tough, long-lasting foundation that's necessary to support the weight of specialized equipment.
THE IMPORTANCE OF CONCRETE EQUIPMENT FOUNDATIONS
The types of foundations typically used in regular construction are crawlspaces, slabs on grade and full basements. However, an equipment foundation requires a different approach, as an equipment foundation will need to manage the impact caused by machinery when it's in operation to manage the dynamic forces that are at work. The purpose of an equipment foundation is to offset these forces and to create a strong, stable base.
In construction, a wide variety of materials can be used to create a foundation. However, if it's going to stand the test of time and provide adequate tensile strength, reinforced or structural concrete is the usual method used in the building of equipment foundations.
APPLICATIONS: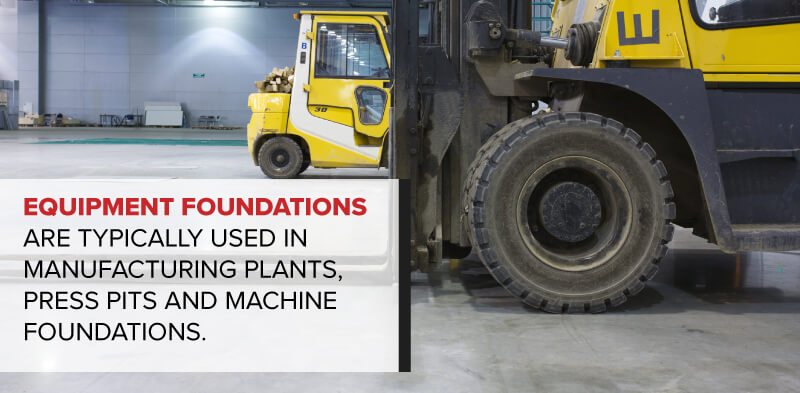 Equipment foundations are typically used in:
Manufacturing plants
Press pits
Machine foundations
CONCRETE'S USE IN DRIVEWAYS, PATIOS, SIDEWALKS, AND WALKWAYS
When constructing driveways, patios, sidewalks, and walkways, there is standard concrete, which is most commonly used, or colored concrete which is often used for decorative/stamped concrete projects.
Decorative concrete comes in a vast range of designs and colors. However, it is important to note that decorative concrete prices can vary substantially from standard concrete prices. Detailed below are some pointers that should be taken into consideration when installing concrete:
DRIVEWAYS
There are several factors that are essential to a long-lasting driveway. This starts with the subgrade being adequately prepared and achieving the right mix of concrete. During the construction phase, reinforcement in the form of steel will often be added to give the driveway greater longevity.
The concrete will need to be cured and finished properly, and adequate drainage is also necessary.
With sidewalks, again, the subgrade is vital. However, a granular subbase layer is often added to give additional support and to limit shrinkage. Control joints are fitted into the concrete to limit cracking of the concrete, but careful consideration needs to be given to the placement of trees, as the roots can cause concrete to lift and crack.
WALKWAYS AND PATIOS
Even the simplest of concrete patios or walkways can transform the exterior of a building. However, if it's going to last, the surface needs to be adequately prepared and must start with a firm foundation to avoid cracks that could otherwise occur.