From the world's tallest skyscrapers to some of the best-known highways, concrete is the material that makes it all possible. It's one of the oldest building materials in the world, and without it, we wouldn't have the Willis Tower, the Hoover Dam or the Panama Canal.
Our commercial concrete services include but are not limited to:
Click to jump to relevant section on page
SLABS ON GRADE
Slabs on grade are one of the three main types of building foundations. These foundations consist of just one thick layer, and when they are poured, the edges will be made extra thick so that they can help carry the weight of the structure. It is standard practice to place a layer of gravel or soil down first to enhance the drainage, and the use of wire mesh will help limit the risk of the concrete breaking up and cracking.
Known for their consistency and durability, slabs on grade foundations are also described as floating foundations. To create the foundation, a mold will first be placed onto the ground, and the concrete will then be poured onto it. The slab and grade option has many advantages in that it creates an affordable and strong base, and it offers better protection against termites.
In colder environments, slabs on grade can be insulated to protect against frost and to help regulate the temperature of the concrete.
COMMON PROBLEMS WITH SLABS ON GRADE
One of the most common problems of using a concrete base in this form is shrinkage. However, there are methods that can be used to help counter this, such as creating an extra-thick slab, using damp proofing, allowing the concrete to cure for longer and using coatings and sealers to prevent moisture from seeping in.
Great care needs to be taken when it's utilized, as poorly installed concrete can lead to cracking, which could threaten the structure of the building if it becomes severe enough. Special care should also be taken to ensure drainage is sufficient.
APPLICATIONS
Applications for slabs on grade include:
Garage floors
Flooring
Foundations
STRUCTURAL CONCRETE:
UNDERSTANDING THE IMPORTANCE OF STRUCTURAL CONCRETE
What makes structural concrete stand out from regular concrete, and why is it so important to the construction industry? Effectively managing tension is imperative to stable building design. Concrete has good compressive qualities, but it lacks tension on its own. This is why steel is added to the mix, giving us structural, or reinforced, concrete.
When steel is incorporated into concrete, it gives the material added tensile strength, allowing the foundation or construction to withstand the stresses it will naturally be exposed to. Between them, the steel and concrete come together to create a more resistant force.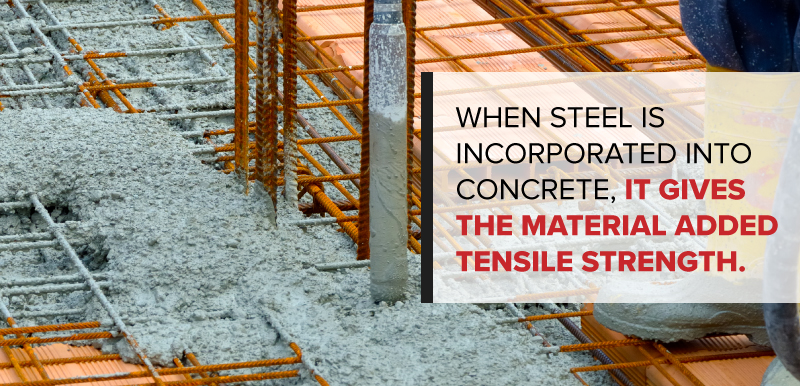 The steel will be embedded in various forms such as steel bars, rods and mesh. However, it might also take the form of plates and fibers. When the two materials are used together, the concrete is strengthened and therefore more structurally sound.
STRUCTURAL STEEL AND ITS ROLE IN CONSTRUCTION
The use of structural concrete is popular among contractors not only for its tensile strength but also because it gives a structure added strength and firmness.
Adding steel to concrete reduces shrinkage. When used by itself, concrete can become tough and is prone to drying out, which leads to cracks. With steel added, cracks are less likely to appear in the concrete, so the structure remains watertight and weatherproof.
Combining steel with concrete reduces the chances of corrosion.
Concrete is brittle by nature, and steel balances it out due to its ductile qualities. By incorporating the two materials, a structure is less likely to succumb to brittle failure.
Steel is used in combination with concrete to ensure added strength. Contractors use various forms of steel rebar in the concrete to enforce its strength against heavy forces, strong winds or other environmental factors.
Structural concrete is a cost-effective solution.
APPLICATIONS:
Applications for structural concrete include:
Equipment Foundations
Building Foundations
Loading Dock Pits
However, structural concrete also has multiple applications in larger projects. It's often used in bridges, piers and buildings, and it's used in both the commercial and residential sectors. Due to its highly efficient performance and its reliability, structural concrete is used in the construction of football stadiums and conference halls.
In addition, structural concrete is suitable for flooring slabs, foundations and for retaining walls, but it also has a role in wall repair. On larger scale projects, structural concrete is used in:
Healthcare facilities
Stadiums
High rise and commercial buildings
STEEL BUILDING FOUNDATIONS
A firm foundation is integral to the longevity of a steel building. If a foundation isn't laid according to the highest of standards, it can ultimately result in the building failing structurally. When a building is structurally unsound, leaks and floods can be commonplace and walls can begin to slant or move, leaving the construction in danger of failing.
When a steel building starts with a strong foundation, the finished building will be durable and better protected from harsh environmental factors and will provide a reliable base for the building structure.
PREPARING THE LAND
Laying the foundations will usually begin with the steel building foundation contractors conducting a survey of the land. During this stage, it will be established whether the ground is stable enough and if the quality of soil is adequate. If any potential problems arise during this stage, options for overcoming them will then be discussed.
THE PURPOSE OF STEEL BUILDING FOUNDATIONS
The foundation serves to counter many of the common problems that come with steel building construction. Steel buildings are vulnerable to damage from environmental forces such as earthquakes and wind uplift. The challenge of wind uplift makes it necessary to take a different approach to building a foundation.
Typically, foundations for steel buildings will be heavier and include additional topsoil or may require deeper footings to provide the necessary stability.
TYPES OF STEEL BUILDING FOUNDATIONS
Steel building foundations come in three main forms: slab, pier and perimeter wall. A slab foundation is the most commonly used and provides both a floor for the steel construction and support for the completed building. Buildings that have a gravel or soil floor will usually be built on a pier foundation, and this option is common in the agriculture industry. Portable and floating foundations are also an option.
FLOATING AND PORTABLE FOUNDATIONS
A floating or permanent foundation is most often used for building construction in the commercial and industrial sector, and it's the preferred option for buildings that are to be situated on softer soils. Floating foundations have many advantages, such as:
They provide an affordable option.
They require less digging.
Floating and portable foundations mean less construction time.
It eliminates the risk of building height loss.
It is suitable for simple construction.
It offers an affordable and straightforward solution for construction.
However, these types of foundations don't have the sturdiness of the regular foundations. Nevertheless, they do offer greater flexibility.
The type of steel building foundation used will vary depending on the project. Pier, footing and grade beam is used widely for agricultural buildings and is often used where the soil is dry. It's more expensive, but is long lasting and will stand the test of time. There's also the option of a concrete slab foundation.
The main considerations when choosing a suitable concrete foundation include:
The location of the steel building and what the building is to be used for
The type of soil
The weight of the building, equipment and vehicles
The final dimensions of the building
APPLICATIONS:
Steel foundations have applications in:
Carports and commercial buildings
Workshops and storage units
CONCRETE LOADING DOCK PITS
A well-designed loading dock is crucial to any business that requires space to pack or unload merchandise. They're commonly used by suppliers who need to easily ship or remove stock from their premises. The type of loading dock pit needed will depend on the individual requirements of the business, the space available and any potential safety issues that need to be taken into account.
CHALLENGES IN LOADING DOCK DESIGN
Some of the biggest challenges for concrete loading dock contractors begin in the planning stages. It's crucial that the calculations and measurements are precise, or the completed project will not meet the individual business's requirements. However, it's also essential that the designs are drawn up with any future business plans in mind, as this will help to save costs on remodeling later.
DIFFERENT TYPES OF LOADING DOCK PITS
There are several types of loading docks, including flush docks, which are the most widely used. Other methods of construction pits include:
OPEN DOCKS
Open docks are among the least popular types. They have a distinct disadvantage due to the exposure to the elements, and they can be an easy target for theft.
DEPRESSED DOCKS
These could also be described as "sloping docks." They are used when the setup of the building won't allow a basement, or when there's no access to a dock-level floor.
SAW TOOTH DOCKS
These are used when there isn't a lot of apron space. However, the main negative with the saw tooth dock is the fact that it will intrude onto dock space.
APPLICATIONS
Concrete loading dock pits have the following applications:
Manufacturing plants
Warehouses
Agriculture
CONCRETE EQUIPMENT FOUNDATIONS
Another use of concrete in the industrial sector is concrete equipment foundations. A durable, reliable concrete foundation is of paramount importance to companies in the manufacturing sector, as the foundation needs to be strong enough to hold the hefty, specialized equipment that is commonplace in the manufacturing industry.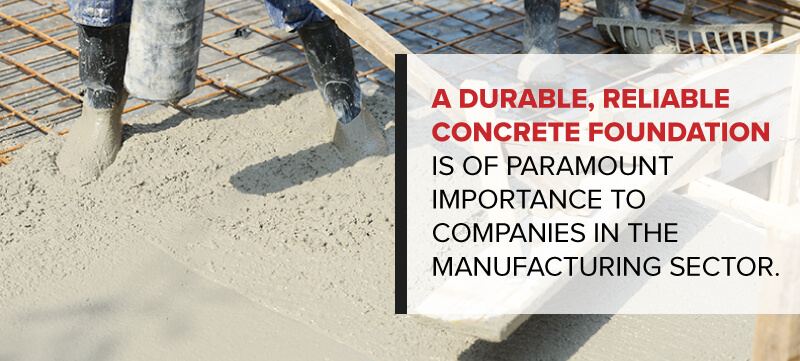 An experienced team of concrete equipment foundation contractors will use their skilled knowledge to create a foundation of any size or shape to cater to the individual business. The creation of these foundations will need to be done with great precision during the construction phase if it's going to provide the kind of tough, long-lasting foundation that's necessary to support the weight of specialized equipment.
THE IMPORTANCE OF CONCRETE EQUIPMENT FOUNDATIONS
The types of foundations typically used in regular construction are crawlspaces, slabs on grade and full basements. However, an equipment foundation requires a different approach, as an equipment foundation will need to manage the impact caused by machinery when it's in operation to manage the dynamic forces that are at work. The purpose of an equipment foundation is to offset these forces and to create a strong, stable base.
In construction, a wide variety of materials can be used to create a foundation. However, if it's going to stand the test of time and provide adequate tensile strength, reinforced or structural concrete is the usual method used in the building of equipment foundations.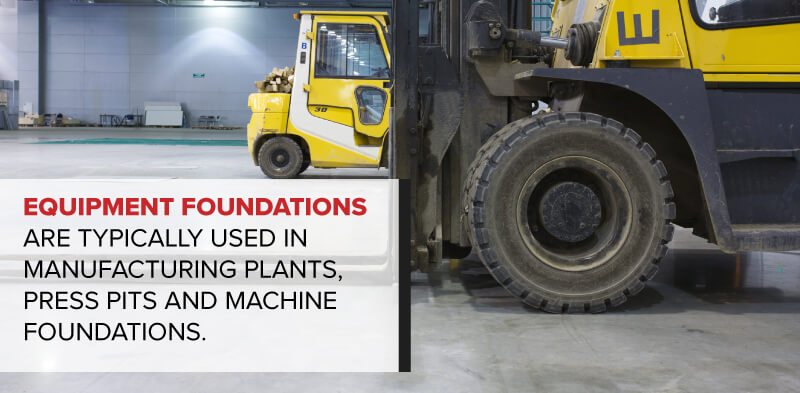 APPLICATIONS:
Equipment foundations are typically used in:
Manufacturing plants
Press pits
Machine foundations
CONCRETE'S USE IN DRIVEWAYS, PATIOS, SIDEWALKS, AND WALKWAYS
When constructing driveways, patios, sidewalks, and walkways, there is standard concrete, which is most commonly used, or colored concrete which is often used for decorative/stamped concrete projects.
Decorative concrete comes in a vast range of designs and colors. However, it is important to note that decorative concrete prices can vary substantially from standard concrete prices. Detailed below are some pointers that should be taken into consideration when installing concrete:
DRIVEWAYS
There are several factors that are essential to a long-lasting driveway. This starts with the subgrade being adequately prepared and achieving the right mix of concrete. During the construction phase, reinforcement in the form of steel will often be added to give the driveway greater longevity.
The concrete will need to be cured and finished properly, and adequate drainage is also necessary.
With sidewalks, again, the subgrade is vital. However, a granular subbase layer is often added to give additional support and to limit shrinkage. Control joints are fitted into the concrete to limit cracking of the concrete, but careful consideration needs to be given to the placement of trees, as the roots can cause concrete to lift and crack.
WALKWAYS AND PATIOS
Even the simplest of concrete patios or walkways can transform the exterior of a building. However, if it's going to last, the surface needs to be adequately prepared and must start with a firm foundation to avoid cracks that could otherwise occur.