TRUSTWORTHY AND RELIABLE CONCRETE SERVICES
Our focus is to ensure your project's success through meticulous advanced planning, teamwork, and open communication. From quality craftsmanship performed by skilled laborers to an enduring commitment to safety and productivity, we'll put a plan in place to meet your goals and exceed your expectations.
Our featured concrete construction services in Carlisle, PA, and throughout Central PA include:
We offer a full range of construction services, including structural concrete, equipment foundations and steel building foundations, slabs on grade, and more. We also provide professional demolition, excavation, and material hauling services.
If you have a residential or commercial structure that you'd like to demolish, our concrete crew can help. R. J. Potteiger Construction Services, Inc. can deal with any structure from parking lots to equipment foundations. We remove debris safely and efficiently, taking it to an approved disposal facility, so you never have to deal with the rubble. We know you value your time, so we aim to perform all concrete demolition services around your schedule without interrupting your daily operations.
Executing precise core drilling is an essential step in building and renovating commercial and industrial facilities. Whether you're installing electrical wiring, plumbing or an HVAC system, we're equipped to efficiently core holes through asphalt, concrete, masonry, metal, and stone.
R. J. Potteiger Construction Services, Inc., utilizes specially developed synthetic diamonds to effectively cut through concrete, asphalt and other hard building materials. From high-RPM saws to electric-powered flat saws, we have the tools, experience, and expertise to complete jobs to the requested specifications.
The floors in an industrial warehouse are subjected to all sorts of exposure that can lead to serious damage and dangerous conditions. We repair and maintain warehouse floors to combat common concerns such as random cracking and early life drying shrinkage in order to create a smooth surface and prevent continued degradation.
We understand the need for prompt and reliable debris removal. R. J. Potteiger Constructions Services, Inc. offers total removal of concrete slabs and waste materials. We quickly haul all leftover debris to an approved disposal facility so that your project site is ready for whatever comes next. Our competitively-priced services aim to fit many different construction budgets and we pride ourselves on offering quality workmanship at great pricing.
At R. J. Potteiger Constructions Services, Inc., we understand concrete. Whether you want to update a driveway, patio or walkway, we know the right mix for every application. Our team will help you choose from standard or colored concrete to give your project the support and appearance you desire. We believe in starting with a firm foundation so you can enjoy greater longevity down the road.
Residential Construction Services in Carlisle, PA
As a homeowner, your property's condition and appearance are important to you. If you're interested in improving your home's presentation and efficiency, our residential construction services are here to help make your dreams a reality.
We offer a multitude of residential services, including:
ADA-compliant ramps: The ADA shares strict guidelines for accessible ramps. We understand these requirements and can provide our clients with accommodations that comply with ADA standards.
Concrete foundations: Whether you want to add a room to your home or build a new structure entirely, we can create a concrete foundation for your project.
Concrete steps: If you're looking to add stairs to your patio or walkway, we can build concrete steps to improve accessibility.
Driveways: Our team can fix cracked or rutted driveways, making them like new again.
Excavation and hauling: We can break down old structures and haul the debris away for you if you need excavation on your property.
Floors: We can lay the foundation for concrete floors and address repairs on preexisting ones.
Patios: Whether you want to build or replace a patio on your property, we can help you enjoy your time outdoors.
Sidewalks: If you want to fix your sidewalk or make it more accessible, we can lay the concrete and create a solid foundation that looks and feels great.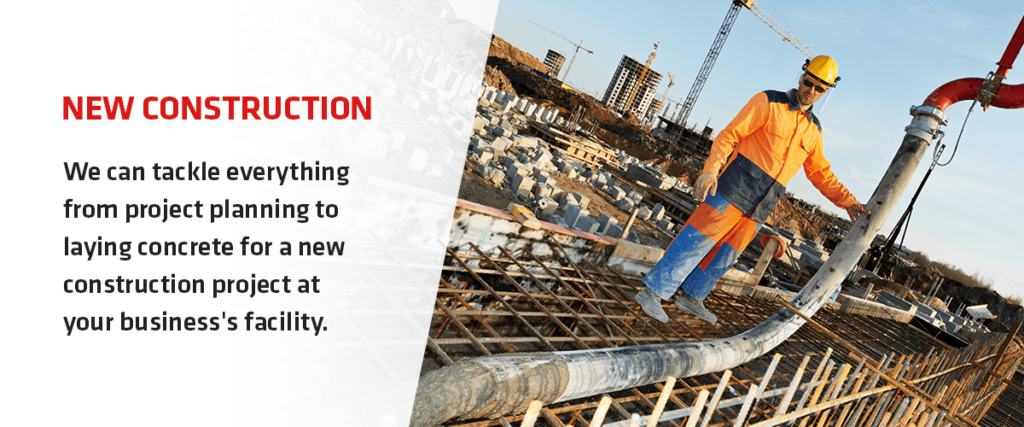 Commercial Construction Services in Carlisle, PA
Your business may be expanding and need a new structure to carry out its operations. At R. J. Potteiger Construction Services, Inc., we offer complete design-build services to help your company with various construction projects. We have the capabilities to work on auto facilities, offices, warehouses, retail properties and religious facilities.
Our services fall into three basic categories:
New construction: We can tackle everything from project planning to laying concrete for a new construction project at your business's facility.
Facility renovations: If you want to renovate an existing building, our staff will prioritize a safe and efficient project site.
Shell fit-outs: Our experienced team offers shell fit-out services that improve flexibility and customizations by lending a hand to architects, builders and property management companies.
We can also provide long-lasting, custom-suited commercial concrete flooring for your business, and we can repair cracks, edge spalling, and joint failures for preexisting floors.
Leaders in Customer Satisfaction and Service Delivery
At R. J. Potteiger Construction Services, Inc., our clients always come first. We prioritize customer service and satisfaction, so you know you'll always get an attentive and committed team when working with us. Built on a foundation of quality and workplace safety, we aim to exceed your expectations by paying close attention to every detail and listening to your specific needs.
We strive to establish lifelong professional relationships built on trust and integrity through working one-on-one with our clients. We always consider your input and concerns for every aspect of your project — our attentive and meticulous approach makes every interaction a great experience for our customers. We are committed to excellence and making the process as easy as possible for the people we work with.
To further establish the importance and value of customer satisfaction, we take a service delivery approach for each construction project. We believe that regular, ongoing customer interactions make for greater results. Adapting to meet your project goals is just one of the ways we put our clients first.
Benefits of Partnering with R. J. Potteiger Construction Services, Inc.
The advantages of teaming up with us for your next construction project include the following:
Commitment to customer satisfaction: We prioritize our clients and their individual wants and needs. We put the people we work with first and always aim to go above and beyond when it comes to customer satisfaction.
Licensed, bonded and insured: As a general contractor, we are proud to be fully licensed and insured in commercial, residential and industrial concrete construction. We are also bonded to give you further peace of mind when working with us.
Competitive pricing: We aim to offer our quality craftsmanship at competitive pricing. You know you're getting your money's worth when you team up with R. J. Potteiger Construction Services, Inc.
Industry experience: Over the last 25-plus years, we have accrued extensive experience in the construction industry. We can help with a wide range of projects, from excavation to laying structural foundations.
Detail-oriented staff: Our staff is meticulous and dedicated to every detail of your project. We listen to our clients' requests and find solutions that meet their needs.
Experienced project management: We are equipped and ready for close management and supervision at every phase of your project to ensure we meet all your standards.