FOUNDATIONS OF BUILDING A STADIUM

Whenever you hear or read about a professional team exploring the possibility of relocating to a different city, the desire for a new stadium is often the primary reason. A sparkling new stadium filled with modern amenities attracts fans in droves — and that generates significant revenues for the team and the local businesses that surround the facility such as bars, restaurants, hotels and retail shops.
The NFL's Oakland Raiders are the most recent example of a sport's team making a move in search of greener pastures. Playing in the antiquated Oakland Coliseum, which was constructed more than 50 years ago, the team generated a mere $69 million in stadium revenues in 2015, according to Forbes magazine. In contrast, the Dallas Cowboys, playing in the immaculate, state-of-the-art AT&T Stadium, raked in more than $440 million.
Unable to obtain financial support to build a new stadium in Oakland, the team's ownership sought and received approval from the league to move to Las Vegas, where it will play in a newly constructed 65,000-seat domed stadium (price tag: $1.9 billion) tentatively scheduled for completion in 2020. Annual revenue projections for the new facility range from $250-$350 million.
THE EVOLUTION OF THE SPORTS STADIUM

While the origins of the sports stadium can be traced to the ancient Greeks, the first modern facilities were constructed in the mid-to-late 19th century. These sport venues were designed with practicality in mind — the goal was to hold as many spectators as possible, and amenities were virtually non-existent. Most of these early structures were single-purpose facilities constructed mainly of wood, several of which were ultimately destroyed by fire. Goodison Park, a Liverpool, England soccer stadium that opened in 1892, was the first sports facility to feature a concrete-and-steel construction.
The trend of single-purpose stadiums continued through much of the 20th century. Facilities such as Fenway Park in Boston, which opened in 1912, and Ebbets Field in Brooklyn and Wrigley Field in Chicago, both of which were completed in 1914, were specifically built for baseball. Designed to blend into the surrounding city neighborhoods, these facilities featured relatively small seating capacities and provided fans with an intimate, up-close ballpark experience that almost made them feel as though they were part of the action.
THE BIRTH OF THE MULTIPURPOSE STADIUM
The post-World War II migration of Americans from the city to the suburbs combined with the growth in popularity of professional football led to the birth of the multipurpose sports stadium concept, which served as the model for the facilities built during the 1960s and 1970s. Designed for both football and baseball, these circular, symmetrical concrete facilities were typically constructed in suburban areas and offered easy access by interstate highway. Spacious parking lots were also required to accommodate the heavy vehicle traffic, as these facilities were inaccessible via the cities' mass transit systems.
Examples of the multipurpose stadium concept included Robert F. Kennedy Memorial Stadium in Washington, D.C.; Veterans Stadium in Philadelphia; Three Rivers Stadium in Pittsburgh; Atlanta-Fulton County Stadium; and Jack Murphy Stadium in San Diego. The Houston Astrodome, which opened in 1965, was the world's first multipurpose stadium to feature a domed roof and an artificial turf field.
THE RETURN TO THE SINGLE-PURPOSE STADIUM CONCEPT
While multipurpose stadiums offered the benefit of practicality and versatility, the uninspired cookie-cutter design featured in most of these facilities eventually fell out of favor with spectators, especially old-school baseball fans who longed for a return to the neighborhood ballpark look and feel. This led to the development of the retro-classic concept inspired by older facilities such as Wrigley Field and Fenway Park. The first of the retro-classic ballparks was Oriole Park at Camden Yards in Baltimore. Completed in 1992, Camden Yards rests on the site of an old B&O railroad yard in South Baltimore and features a sprawling, 1,100-foot-long, eight-story refurbished railroad warehouse as a backdrop.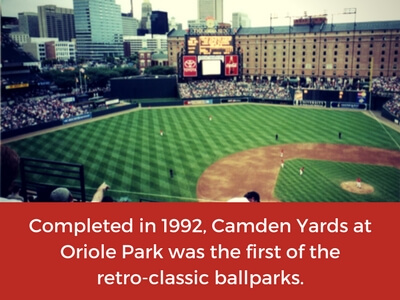 Other stadiums inspired by the Camden Yards model include Progressive Field in Cleveland, PNC Park in Pittsburgh, Citizens Bank Park in Philadelphia, AT&T Park in San Francisco and Miller Park in Milwaukee. These facilities combine the retro look and feel with all the modern features and amenities required to meet the demands of the 21st-century sports fan. These new baseball stadiums include expansive scoreboards and video replay screens, as well as natural grass or synthetic turf fields that are softer than artificial turf.
CURRENT AND FUTURE STADIUM DESIGN TRENDS
While the traditional stadium design catered to families, modern stadiums to appeal to the 18-to-34-year-old demographic. These younger individuals view going to a sporting event as a total entertainment experience that entails much more than watching a ball game. The design of newer facilities typically incorporates features such as pedestrian malls, entertainment plazas and concourses located outside the stadium that allow fans to dine, shop and socialize before and after the game.
Today's facilities also feature numerous seating environments that extend well beyond the standard stadium seat in the middle of a crowded row of spectators. Premium seating options include private suites that resemble living rooms and can accommodate 10-15 fans. These suites include a private entrance from the stadium concourse and have features such as buffets, bars, television monitors and computers with Internet access. Some stadiums even offer field suites located in the front row that place fans right on top of the action.
Stadium amenities have also come a long way, regarding the variety of food options. In addition to the hot dog, beer and bag of peanuts, most stadiums offer a broad range of high-end cuisine and craft beers and wine to cater to a younger, upscale crowd. Menu options at AT&T Stadium in Dallas, widely regarded as the crown jewel of NFL facilities, include everything from chicken fried quail to a brisket sandwich on pretzel bread smothered in melted onions, piquillo peppers and melted cheddar cheese.
While the popularity of single-purpose stadiums continues, there are signs of an eventual return to the multipurpose concept. According to John Rhodes, Director of Sports, Recreation and Entertainment at the London office of HOK, the architectural firm largely responsible for creating the Camden Yards concept, the multipurpose design has been gaining traction across Europe over the past decade. Rhodes indicates there is an increasing shift toward developing more civic-type facilities that can host a wide range of sporting and community events. Sustainability has also become a critical factor in all new stadium projects to comply with LEED requirements.
In a recent StarTalk Radio episode, Stadiums of the Future, Neil deGrasse Tyson dives into modern stadium designs and tech with co-hosts Gary O'Reilly and Chuck Nice and Benjamin Brillat of IBM Sports. Bejamin Brillat discusses how these advancements start right from when the stadium is just a hole in the ground. They bury the conduit in the concrete right before it gets poured. Future designs will not only change the way fans experience a game, but it could also change the sport.
LOCATING THE IDEAL STADIUM SITE
One of the biggest challenges in constructing a new stadium is finding the ideal building site. This requires careful evaluation of a variety of factors. The team and venue owners/operators must determine if it wishes to build within a city or in the suburbs. The former means locating a large enough plot of land within the city limits, which may be difficult in a crowded urban area where available land is scarce. The latter typically requires finding a spot that is close to major highway and has enough land for the facility, parking lot and surrounding infrastructure.

An area with a high population density is also a desirable factor, as this will provide a large enough customer base to generate large crowd sizes. Heavily populated areas are also more likely to include the market amenities and commercial establishments that appeal to the modern sports fan. Finally, the land must be suitable for accommodating a large structure for several decades.
THE STADIUM DESIGN PROCESS
Designing a professional sports stadium can take one to two years. There are several architectural firms that specialize in stadium design. The process consists of five basic steps:
Pre-concept – Data collection step that includes site analysis and confirmation of project brief requirements.
Concept – Development of design details to determine the construction materials required and other basic structural needs.
Schematic design – Entails determining engineering needs, design criteria testing, crowd modeling and structural review.
Design development – Completion of detailed calculations, equipment selection, etc.
Issuing of the final design for construction – Entails the finalization of all design details and distributing the finished drawings to the general contractor.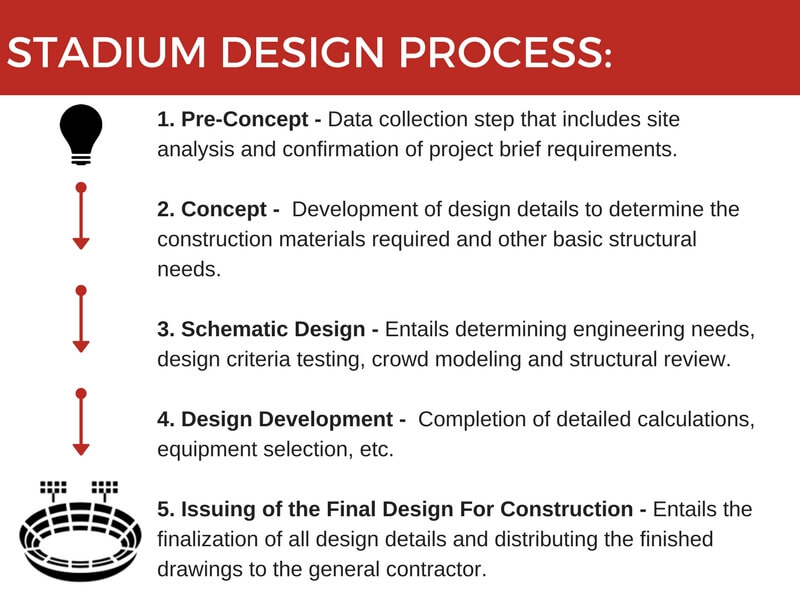 OVERVIEW OF THE STADIUM CONSTRUCTION PROCESS
The actual construction of a sports stadium can take anywhere from 18 months to three years, depending on factors such as weather conditions and the amount and severity of unexpected construction issues. The process typically begins with a site excavation to create the seating bowl, which can be 50 feet beneath the ground or more. This is followed by masonry work and the manufacturing and installation of precast components that serve as the foundation for the new stadium.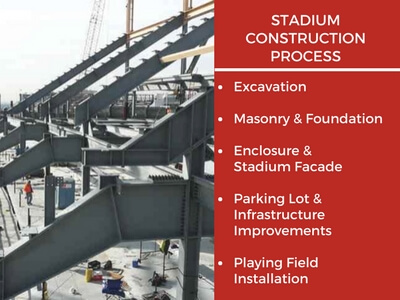 After the laying of the stadium concrete foundation, work on the enclosure and stadium façade can begin. This includes the installation of lights, construction of concession areas, restrooms, locker rooms and more. The construction of parking lots and other infrastructure improvements will also take place at this time. The installation of the playing surface is one of the final steps in the stadium construction process. Depending on the desires of the team and venue owners or operators, the field surface may consist of natural grass or some form of synthetic turf. Natural grass surfaces are more difficult to maintain; however, they tend to be softer than many forms of synthetic surfaces, which can help to minimize player injuries.
WHAT ARE THE COSTS OF BUILDING A STADIUM?
The building costs of a stadium have continued to escalate over the years. The Houston Astrodome was completed ahead of schedule in 1964 with a total project price of $35 million ($266 million in today's dollars). While this was viewed as a hefty sum at the time, it pales in comparison to stadiums of more recent vintage:
2008 – Lucas Oil Stadium – Indianapolis: $720 million
2008 – Nationals Park – Washington, D.C.: $611 million
2009 – Citi Field – New York: $900 million
2009 – Yankee Stadium – New York: $1.5 billion
2010 – MetLife Stadium – East Rutherford, NJ: $1.5 billion
2014 – Levi's Stadium – San Francisco: $1.3 billion
2017 – SunTrust Park – Atlanta: $1.1 billion
WHO PAYS TO BUILD A STADIUM?

So where do all the millions, or in many cases billions, of dollars it requires to build a new stadium come from? While some stadium projects receive varying amounts of private funding, it is usually the average citizen who shoulders most, it not all, the burden. According to the Huffington Post, 29 of the 31 current NFL stadiums received public dollars either for construction or renovation projects.
Furthermore, the 16 stadiums that hosted games during the opening weekend of the 2015 season received a total of $3 billion in public funding. Some form of new tax or tax increase is typically the vehicle used to generate the additional revenues. A study conducted by urban planner Judith Grant Long found that, on average, taxpayers contributed $262 million toward each stadium built between 1990 and 2010.
AN INSIDE LOOK AT THE CONSTRUCTION OF A MODERN SPORTS FACILITY: AT&T STADIUM
The construction of a sports stadium is a complex, multistep process that requires finding the ideal location, obtaining funding and create the perfect design concept. The timeframe from initial conception to when the first ball is thrown or kicked typically encompassed several years, or even a decade or more. A look at the football league's AT&T Stadium timeline indicates the multiple challenges involved in the design and construction process.
The idea of building AT&T Stadium originated with Jerry Jones, the owner of the Dallas Cowboys:
1994 – Jones indicates his desire to expand Texas Stadium, the Irving, TX home of the Cowboys at the time, from 65,000 to 105,000 seats and add a retractable roof and other features to make it a multipurpose year-round venue.
1997-2004 – Jones engages in negations with the Irving City Council to obtain funding for the Texas Stadium renovation project. At the same time, Jones continues to explore the possibility of building a new facility in Irving or other Texas cities such as Grapevine, Grand Prairie, Coppell and Las Colinas.
2004 – Jones announces plans to build a $650 million stadium in the Fair Park section of Dallas. The deal falls through when Dallas County commissioners indicate they will not ask Dallas residents to vote on a proposal that would provide the $425 million in public funding required to execute the project.
November 2004 – Later that year, voters in Arlington approve a tax increase that would raise $325 million to fund a new stadium in their city.
2005 – Arlington city officials and Jones agree on a site for the new stadium. The Cowboys hire the architectural firm of HKS to design the new facility, which will include a two-piece retractable roof, a giant video screen measuring 180' x 72' and spanning from 20-yard line to 20-yard line, and 414 luxury suites.
January 2006 – The Cowboys hire Manhattan Construction as the general contractor for the project. Later that month, crews begin to demolish more than 150 residences at the site.
April 2006 – Excavation of the 14-acre stadium bowl begins.
February 2007 – Masonry work begins.
March 2007 – Heldenfels Enterprises is hired to manufacture and install the precast concrete components that will serve as the stadium's concrete foundation. The installation begins in April.
June-October 2007 – Work on the retractable roof, exterior façade and steel arches begins.
June 2008 – Jones commissions the design and installation of the video screen.
June 2009 – The stadium's first event, a concert featuring Blake Sheldon and other notable country music artists occurs.
July 2009 – Installation of the synthetic turf for football takes place.
August 2009 – The Cowboys play their first pre-season game at what is then called Cowboys Stadium and later renamed AT&T Stadium as part of a naming rights agreement with the telecommunications giant.
While the initial estimated cost for building AT&T Stadium was $650 million, the actual cost was $1.15 billion.
CONSTRUCTING HIGH SCHOOL STADIUMS
While many people associate stadiums with the sprawling 50,000-100,000-seat structures that host professional and major college sporting events, high schools also construct scaled-down versions for their football teams. Some school districts choose to build multipurpose facilities that also include a running track, baseball diamond and fields for other outdoor sports such as soccer and lacrosse.
While the costs of building a stadium for high school sports are much lower than for a professional team facility, they can easily run into millions of dollars. Residents in McKinney, TX recently voted to approve funding for the construction of a 12,000-seat football stadium at an estimated cost of $70 million.
THE ROLE OF CONCRETE IN STADIUM CONSTRUCTION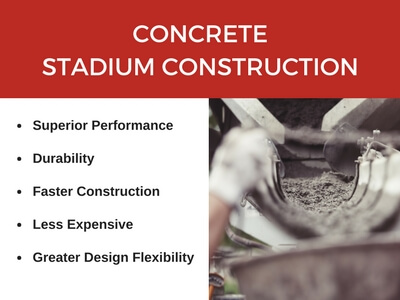 Concrete plays a critical role in the design and construction of the modern sports stadium. Many architects and construction professionals prefer precast, pre-stressed concrete (where the concrete components are manufactured in a controlled environment and transported to the stadium site for final curing and installation) over cast-in-place concrete that is poured at the site. Contractors use precast concrete for numerous stadium components including wall panels, exterior facades, columns, stairs, girders, flooring systems and parking garages.
Benefits of using concrete in stadium construction include:
Superior performance – Concrete foundation stadium components offer greater strength and impermeability, excellent fire resistance and consistent quality.
Durability – Concrete's inherent impermeability and corrosion resistance ensures maximum durability and reduced maintenance. You can expect concrete stadium components to last for many years, while withstanding the forces of nature and the impact of thousands or possibly millions of spectators over time.
Faster, less expensive construction – Using precast concrete components saves time at the construction site; it enables the simultaneous erection of multiple structural elements, while requiring less labor. This can help you avoid overruns that can add millions of dollars to total cost and prevent a timely project completion.
Greater design flexibility – Precast concrete offers maximum flexibility for overcoming design obstacles such as when working with a stadium construction site with severe space limitations. Numerous concrete mixing options are also available in terms of color, texture, and finish. You'll be able to achieve the ideal aesthetic appeal that is paramount in today's stadium design and construction projects.
CONTACT R.J. POTTEIGER CONSTRUCTION SERVICES, INC. FOR YOUR STADIUM CONCRETE FOUNDATION NEEDS
R.J. Potteiger Construction Services, Inc. offers a variety of high-quality concrete services that will add significant value to your stadium design and construction projects. Contact our office at (717) 697-3192 or online for more information and a free project estimate today.