A QUICK GUIDE TO EQUIPMENT FOUNDATIONS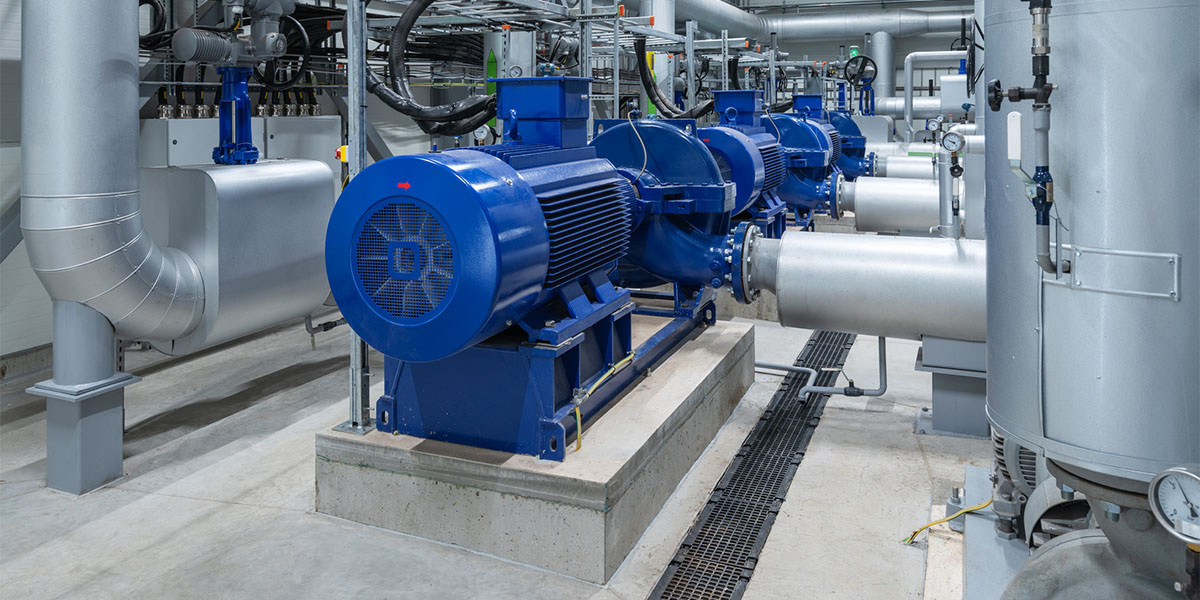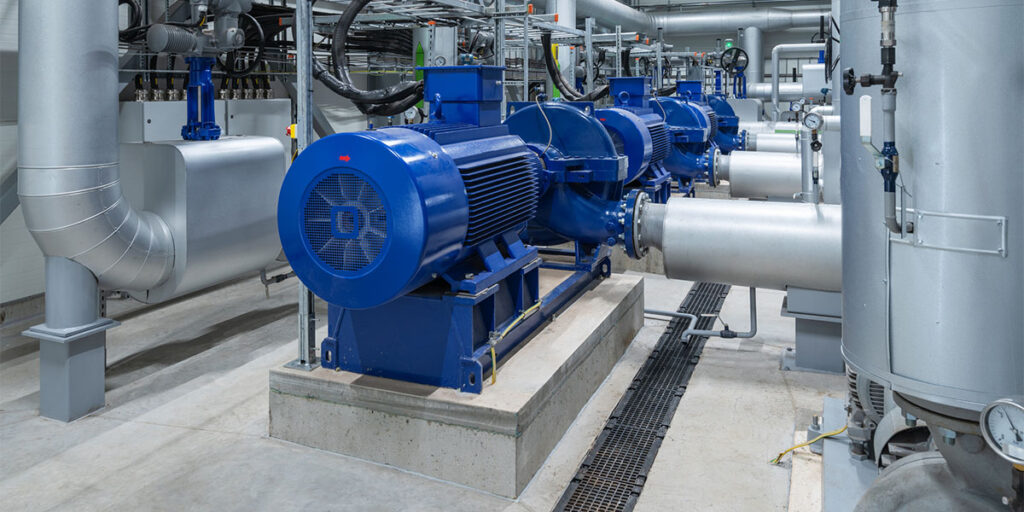 A strong foundation is essential for many construction projects. Before you bring in heavy equipment or make significant changes to a location, you must ensure a stable foundation is in place. These bases protect heavy machinery and create a safe work environment for operators.
One way to do so is with equipment foundations. An equipment foundation is specially designed to meet machinery loads, movements and other actions. These specific foundations can help protect flooring as you use machinery, enhancing working conditions for operators by absorbing vibrations and frequencies.
Read on to learn more about equipment foundations and how R.J. Potteiger Construction Services, Inc., can help.
WHAT ARE EQUIPMENT FOUNDATIONS?
Equipment foundations are the concrete bases below machines during manufacturing projects. These foundations are created to meet the needs of particular weights, sizes and loads. The concrete pad for mechanical equipment must provide a durable base for heavy machinery throughout a project. Skilled contractors create and install the foundation before the machinery moves into the desired space.
An equipment concrete foundation design depends on these factors:
Static load: The static load of a machine is the overall load it carries. This weight doesn't change throughout machine usage.

Kinetic forces: Kinetic energy refers to the amount of energy an object has due to its movement. As the equipment moves, it gains energy and creates shocks and vibrations. Kinetic forces vary depending on the type of machine and its power levels.
Equipment foundations need to be rigid and meet the precise needs of static loads and kinetic forces. They should absorb the kinetic vibrations from the equipment without sustaining any damage. They offset these forces and provide a stable base. To meet the necessary strength and structural requirements, equipment foundations typically consist of reinforced or structural concrete.
TYPES OF EQUIPMENT FOUNDATIONS
Construction teams use various types of equipment foundations to support their machinery. There are five general types:
Block-type equipment foundation: Block types use pedestals that rest on footings to build the foundation. This foundation type has a large mass and very little natural frequency.

Box equipment foundation: Box equipment foundations consist of a hollow concrete block. They're also referred to as caisson-type foundations. A box-type foundation has less mass than a block-type, due to its hollow nature. It also offers a stronger natural frequency.

Wall-type equipment foundation: This foundation option contains two walls and a slab resting on top. Manufacturers design this type for lighter equipment, which sits on top of the slab.

Framed type equipment foundation: Framed equipment foundations have vertical columns with a horizontal frame at the top of each one. This type is usually for big machines, and they sit on horizontal frames.

Flexible type equipment foundation: A flexible foundation has less of a set structure than the other types. Manufacturers can alter the design as needed for different projects.
USES FOR EQUIPMENT FOUNDATIONS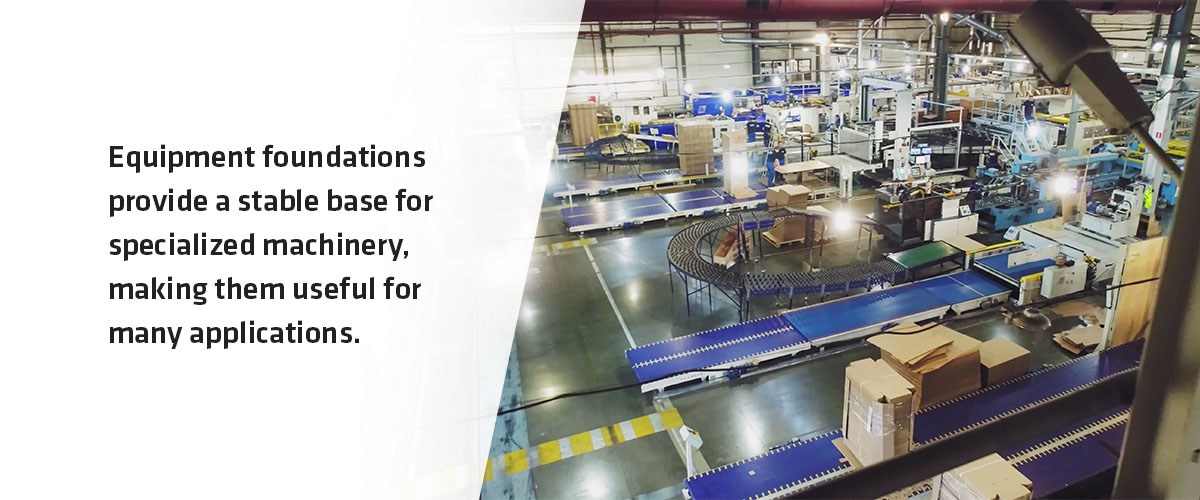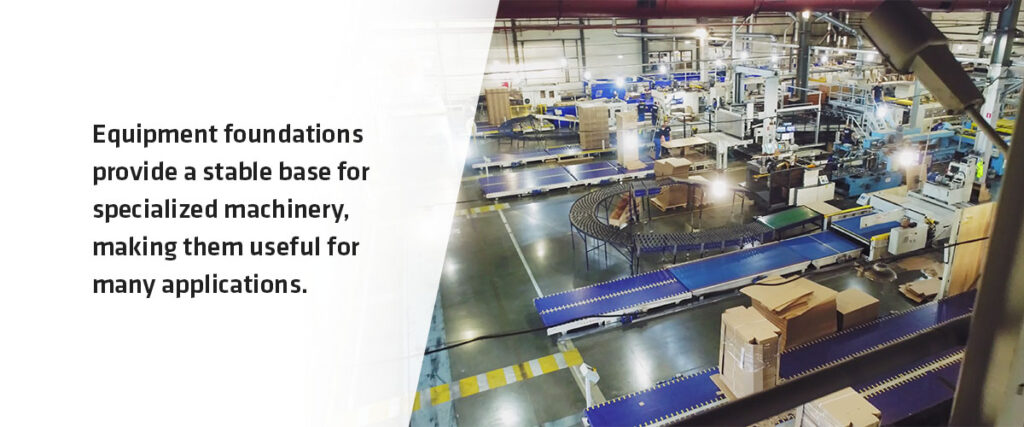 Equipment foundations provide a stable base for specialized machinery, making them useful for many applications. They're used in a variety of construction applications, such as:
Manufacturing plants: A wide range of manufacturing plants use equipment foundations because of the many kinds of specialized machinery they require to create products. Equipment foundations allow plants to add new equipment or make alterations to the area. The foundation provides a stable base for heavy equipment during use.

Press pits: Press pits are used with machine presses to press out materials and make an area ready for a foundation. Many manufacturers use equipment foundations in press pits to create an ideal foundation for equipment.
ADVANTAGES OF EQUIPMENT FOUNDATIONS
Concrete equipment foundations provide a range of benefits for users, such as:
Protects floor integrity: An equipment foundation provides an extra strength layer for existing floors. Installers place the concrete slab over the foundation so that heavy equipment makes contact with it. In turn, your ground will feel fewer effects of the machinery's force and stay intact. The additional protection reduces necessary repairs or replacements for your floor in the future.

Improves worker conditions: Equipment foundations can also enhance operator conditions. The foundation absorbs the machines' vibrations, protecting workers from physical equipment impacts. These foundations can also ensure equipment pieces remain balanced during use. Employees can operate machinery safely and efficiently.

Provides durability: Machine foundations are highly durable. Made from reinforced concrete, these bases last throughout machine usage and long afterward. No matter your project length, the equipment foundation can support your equipment throughout its entirety.

Offers cost savings: These bases are a cost-efficient option. Using a machine without adequate protection underneath it can damage flooring, leading to repairs and extra maintenance. Plus, because the foundations last so long, you won't need a new one for several years.
Overall, equipment foundations are a necessary choice for many manufacturing environments.
WHY CHOOSE R. J. POTTEIGER CONSTRUCTION SERVICES, INC. FOR EQUIPMENT FOUNDATIONS
Concrete equipment foundations are essential to manufacturing companies. At R.J. Potteiger Construction Services, Inc., we understand the importance of high-quality foundations. For over 25 years, we've provided individualized solutions to help clients meet specific construction goals. We're fully licensed and insured, ready to take on a variety of construction projects.
Competitive pricing: We're dedicated to finding you the best concrete-based solution. We work with clients to find the best pricing for their projects and budgets. Our competitive prices allow you to receive top-quality results at a price that suits your needs.

Dedicated customer service: We know successful projects require a strong relationship between contractors and clients. That's why we focus on communication, team building and commitment. Our team works with you to find the best solution and guides you through each step of the process.

Many years of experience: With over 25 years of experience, our team has a wide breadth of construction knowledge. We listen to your needs and offer informed suggestions and support throughout the process.
LEARN MORE ABOUT OUR EQUIPMENT FOUNDATION SERVICES